For some investors it may feel as if the market can't catch a break. After what has already been a difficult start to the year, last week's GDP report confirmed that economic growth slowed for the first time since the pandemic began. This news, along with higher interest rates and faster Fed tightening, drove the S&P 500 back into correction territory and the Nasdaq into a bear market. However, there is also positive news beneath the surface that could matter more in the months, quarters and years ahead. What should long-term investors focus on during this challenging period?
The latest GDP report for the first three months of the year showed that the country's gross domestic product shrank by 1.4% on an annualized, quarter-over-quarter basis. This simply means that there was less spending in some parts of the economy last quarter. While this was a negative surprise, even the 1% growth rate that economists had expected would have been a deceleration. At this point, the drags on the economy are well known – high inflation and energy prices, rising rates, Fed rate hikes, the war In Ukraine, and more.
Under the surface, there were actually some positive signs. Consumer spending grew 2.7% even after adjusting for inflation. Also, while economic growth slowed compared to the previous quarter, it still rose 4.3% when compared to the prior year. It was mostly a decline in government spending, a worsening trade deficit and changes to business inventories that made overall GDP negative last quarter – factors that could rebound too.
Still, the negative headline number has naturally raised concerns over a possible recession. Recessions are casually defined as two consecutive quarters of negative growth. However, the organization that officially decides recession dates, the National Bureau of Economic Research, considers a variety of economic data. Fortunately, these data still look robust, even if they are not perfect. The job market, in particular, is exceptionally strong with unemployment of only 3.6% and wages for hourly workers rising 6.7%.
For long-term investors, what matters is not that the economy is perfect – it's that overall growth will support corporate earnings and thus market returns. Companies are still doing well in spite of high inflation and other sources of uncertainty, with an S&P 500 earnings-per-share estimate of $237 a year from now. Over the course of full business cycles, it is profitability that propels stocks and portfolios ahead, allowing investors to achieve their financial goals.
Even if a recession were likely, the reality is that they occur every five to ten years across history. The pandemic-driven recession, for how severe and destructive it was, only officially lasted two months. In other words, these are not surprise events – they are a natural part of the full business cycle of expansion and contraction.
In other words, investors ought to hold long-term portfolios that are designed to withstand these periods, ideally with the guidance of a trusted advisor, rather than adjust portfolios on-the-fly. While pessimism can occasionally pay off in the short run, it almost never helps in the long run. Even when the situation fails to evolve as investors hope, investment portfolios that are properly positioned often find a way to perform well nonetheless.
Thus, the more optimistic perspective for investors is that the economy can continue to grow at a steady pace once it gets over the near-term speed bumps. 
Below are three charts that put the economy in perspective.
1. Economic growth slowed during the first three months of the year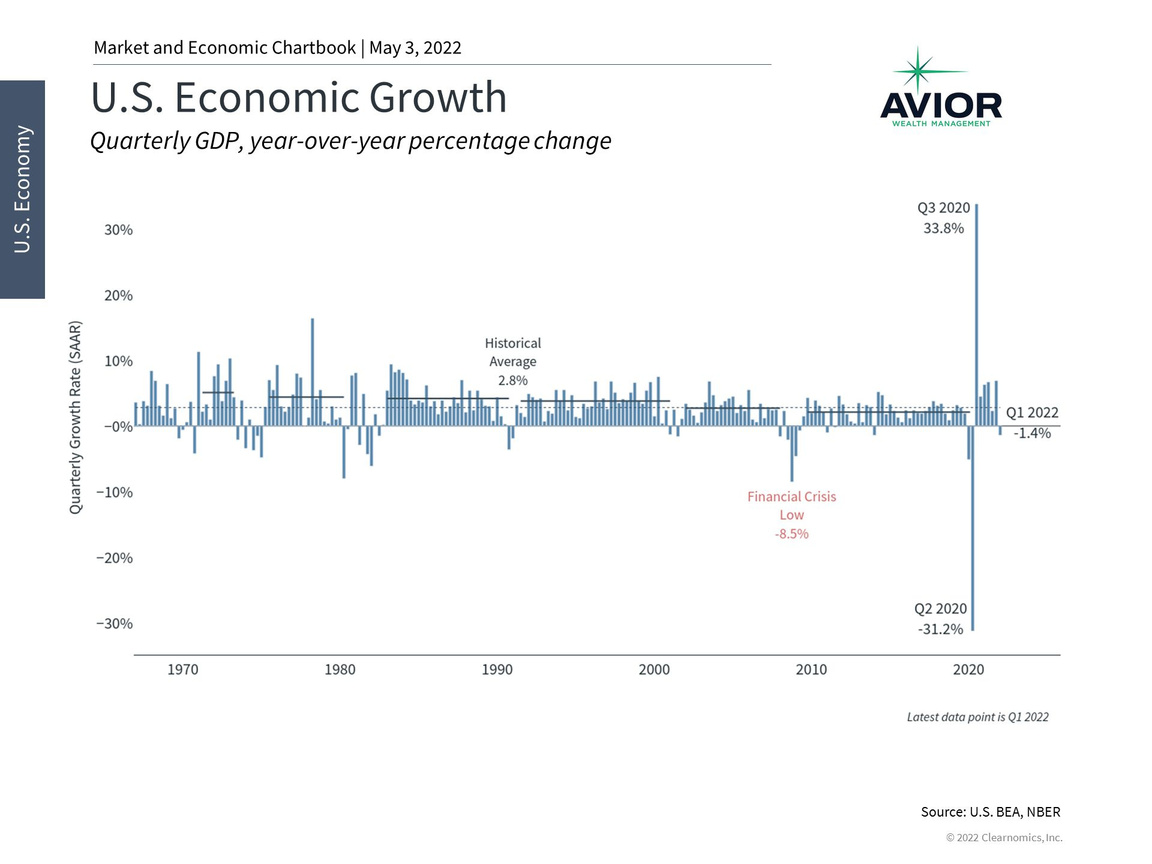 The economy contracted slightly for the first time since the pandemic began. This was driven by government spending, business inventories, and the trade deficit. Consumer spending was robust during this period despite rising inflation.
2. Bull and bear markets behave very differently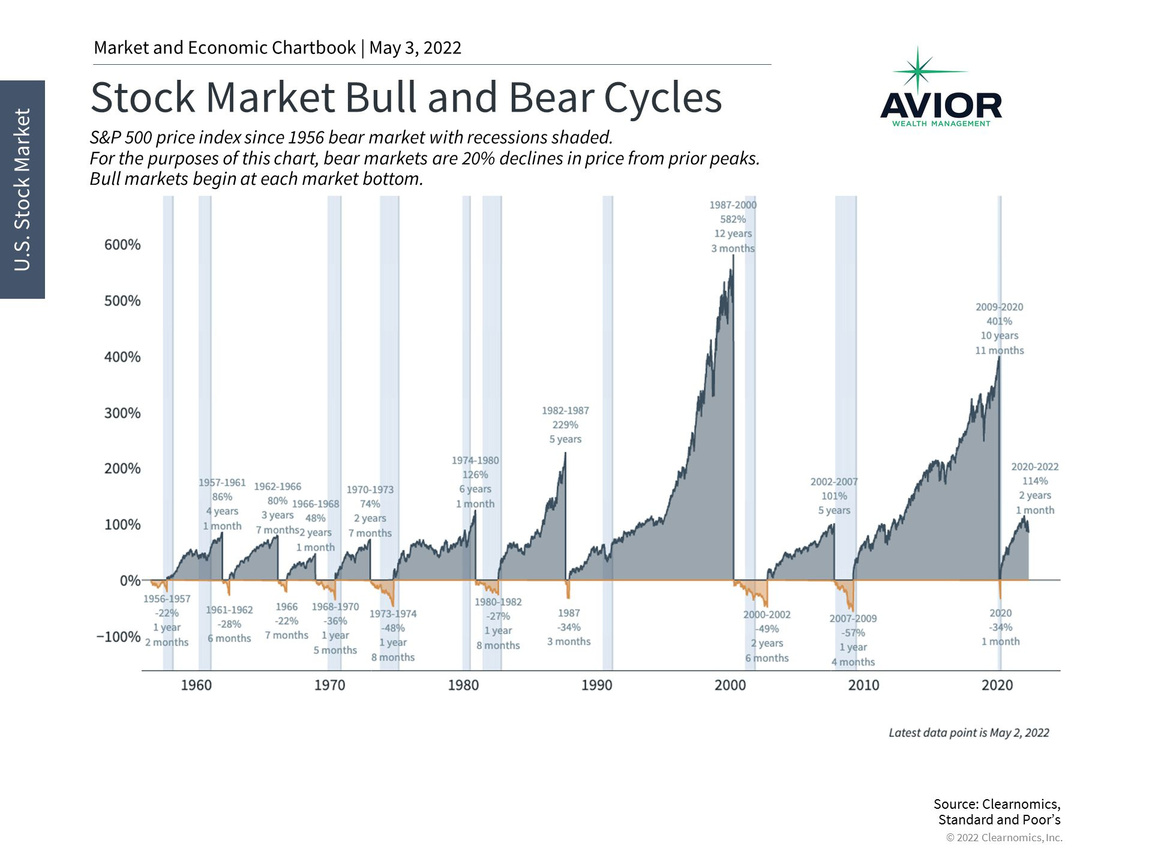 Recessions and bear markets are natural parts of the economic and market cycle. Investors should hold portfolios that can withstand these periods rather than treat them as special cases. Still, bull markets tend to be long, lasting several years if not a decade or more, compared to recessions and bear markets which tend to be much shorter.
3. Economists expect steady but moderate growth
The negative GDP number for Q1 was driven by factors that are widely known. Economists expect steady but moderate growth in the coming quarters as the economy and world get back on track. This is the case despite inflationary concerns, Fed rate hikes, and more. Investors ought to focus on these long run trends and not a single three-month period.
The bottom line? Investors should continue to stay invested and diversified in a portfolio that can withstand short-term market challenges.
Disclosure: This report was obtained from Clearnomics, an unaffiliated third-party. The information contained herein has been obtained from sources believed to be reliable, but is not necessarily complete and its accuracy cannot be guaranteed. No representation or warranty, express or implied, is made as to the fairness, accuracy, completeness, or correctness of the information and opinions contained herein. The views and the other information provided are subject to change without notice. All reports posted on or via www.aviorwealth.com or any affiliated websites, applications, or services are issued without regard to the specific investment objectives, financial situation, or particular needs of any specific recipient and are not to be construed as a solicitation or an offer to buy or sell any securities or related financial instruments. Past performance is not necessarily a guide to future results. Company fundamentals and earnings may be mentioned occasionally but should not be construed as a recommendation to buy, sell, or hold the company's stock. Predictions, forecasts, and estimates for any and all markets should not be construed as recommendations to buy, sell, or hold any security–including mutual funds, futures contracts, and exchange traded funds, or any similar instruments.
Avior Wealth Management, LLC, 14301 FNB Pkwy, Suite 110, Omaha, Nebraska 68154, United States, 402-218-4064